Pastor Larry & Connie Hasmatali
Larry is a respected and gifted minister of the gospel, holding two leadership positions within the Church of God. In 1996, he became the Lead Pastor of Church of God Moose Jaw. In 2012, he was appointed as Administrative Bishop for the Church of God in Western Canada. He serves in both of these roles with great devotion and passion for leadership development and church growth.
Larry and his wife, Connie, have made their home in Moose Jaw since 1986. They have a son, Brandon, and a daughter, Maddison.
"In March 1996, we were given the opportunity to pastor this amazing church. One of the biggest lessons 2020 has taught us is not to take the good things in life for granted. One of those good things in my life is fellowshipping with our church family. Connie and I are thankful and honoured to serve with such a dedicated and passionate leadership team and congregation, and we're excited to see what God has in store for the future."
- Pastor Larry
Do your best to present yourself to God as one approved,
a worker who does not need to be ashamed, and who correctly handles the word of truth.
2 Timothy 2:15
Pastor of Discipleship & Leadership Development
Jeremy serves as Pastor of Discipleship & Leadership Development and has served as a pastor at COG-MJ since 2014. Jeremy believes in the power and potential of the local church made up of ordinary people called to do extraordinary works with and for God. His passion is to equip leaders and inspire the church through Bible-centred preaching to know, love, and serve Jesus Christ. He has vast cross-cultural experience through several years on the mission field, including two years in South Korea, and carries a Masters of Divinity Degree from Briercrest Seminary. Jeremy is married to his sweet wife HeeJu, and they have two boys, Micah and Noah. His other loves include hockey, coffee and reading.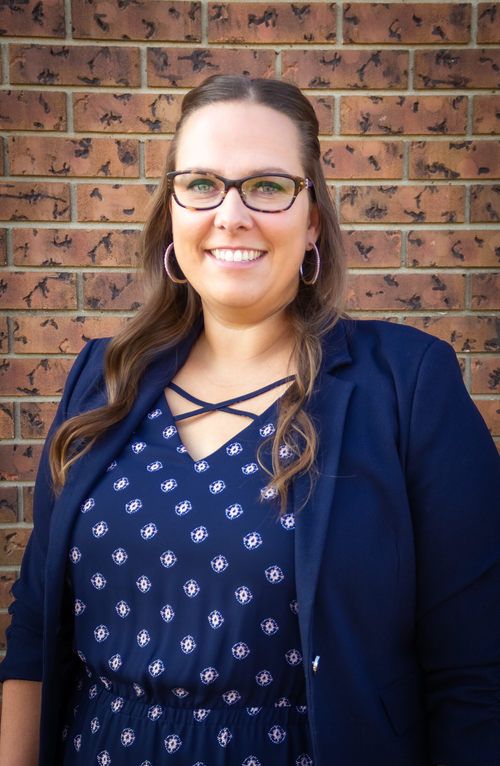 Chief Financial Officer & Human Resources
Corelie is the Chief Financial Officer of COG-MJ, working on a part-time basis since October 2014. Corelie graduated from the Accountancy Program at SIAST and has worked in her field for over 15 years. She enjoys serving the church in her area of expertise, assisting donors in all things financial and the staff team with budgeting, stewardship, and human resources. Corelie, along with her husband Chey and children Carter and Taylor, have attended COG-MJ since 2006. It is here that they have felt welcomed and have flourished in their relationship with Christ.
Pastor of Next Gen Ministries
Becky has attended the COG-MJ since 2006, and in 2016 she joined the staff as the Children's Ministry Director. In 2020, she was appointed to the position of Pastor of Next Gen Ministries, where she oversees all programming, events, staff, and volunteers connected with our kids and youth ministries. Her enthusiasm, creativity, ingenuity and vision are continually on display each week as she leads children, youth, and their families closer to Jesus. Becky married her high school sweetheart, John, in 2006 and they have four amazing daughters – Jaycee, Jenna, Alexis and Ava. Together, they enjoy games, movie nights and being with friends and family.
Ruth-Ellen has attended COG-MJ since 2016 and been on staff since July 2020. Raised in a Christian home and involved in church ministries since she was fifteen, Ruth-Ellen has sought to develop and use her skills in administration, leadership, journalism, and graphic design for God's glory, and now enjoys using these on a daily basis to serve COG-MJ in the role of full-time administrator. Ruth-Ellen has a heart for empowering women to walk in their God-given calling, and is a worship leader, mentor, and the author of a self-published devotional for women. Her interests include singing, writing, knitting, decorating, and photography.
Originally born in British Columbia, Kyleigh moved to Saskatchewan when she was one year old. Kyleigh began dancing when she was three and now directs our weekly Born2Dance program. She is a member of the Canadian Dance Teachers Association and is a Certified Teacher with the Associated Dance Arts for Professional Teachers. She has been working at COG-MJ since 2008, and has a heart to help children experience God, build lasting relationships and establish strong foundations. Kyleigh and her husband Colin are the parents of two children, Emma and Tristan.
Benji grew up in a family of 15 in Switzerland, and left his home country in 2008 to serve with YWAM. He met his Moose Javian wife, Janine, at the YWAM base in Perth Australia and came back from missions and to COG-MJ in 2014. Together they have two sons, Corban and Finn. Benji, who became a Canadian citizen in 2019, has a love for filmmaking and media and is passionate to see the church take advantage of today's media to spread God's love beyond the physical walls of the church and the borders of its community.
Nathan and his family have been attending COG-MJ since 2018 and joined the Staff Team in March 2020. Nathan has been involved with youth ministry in various pastoral and parachurch roles for two decades. Nathan also serves as the Director of Youth for Christ in Moose Jaw. Nathan is passionate about helping youth love God, love others and live lives that are set apart for Jesus and to use their God given gifts and passions to make a difference in the world. Nathan married his wife Erin in 2002 and they have four amazing children: Isaac, Oliver, Claire and Asher.
Children's Ministry Assistant
Bethany has been an active member of COG-MJ since 2009. She joined our team to work alongside the Children's Ministry Director in 2017, and her immense creativity, innovation, and passion for Jesus shows through in everything she does! Bethany married Wilson in 2014, they have a dog Max and are the proud parents of Lincoln.
Andrew is currently working on completing his Masters of Christian Ministry through Briercrest Seminary and is very excited to serve COG for his pastoral internship as part of his studies. Andrew also serves part-time as the Indigenous Coordinator at Briercrest.
Andrew is passionate about connecting to people and seeing the body of Christ mobilized to build up the Kingdom of God. He currently lives in Caronport with his wife Sue and their four children.
Will is currently a fourth-year Briercrest College student working towards completing a B.A. in Christian Ministry, and is thrilled to join COG as an intern this fall! Will has attended COG throughout his years at Briercrest and really enjoys connecting with our youth. Will has a beautiful fiancee and they are thrilled about graduating from college and starting their life together!
Church of God Prince Albert
Since 2015, Pastor Changsub Kim and his family have been honoured to serve the Lord's mission in northern Saskatchewan and are bringing hope and connection to those who are isolated in the far north.
Whether it's through their mission centre in downtown Prince Albert or their Zoom Bible studies to remote native reserves, Prince Albert Church of God is bringing hope to the neediest of humanity and shining Christ's light into the darkest areas.
'House of Glory' Church of God
Pastors Marvin & Rose Garcia along with their children, Dulce, Giovana and Isai, came to Moose Jaw from Nebraska in 2017. They have a heart and vision to reach the Spanish-speaking community locally and beyond, and their hope is for people to come to Christ and accept Him as their one and only Saviour. They launched their own church, Iglesia de Dios Casa de Gloria, in 2020, and their live streams have gotten up to 1800 views from different parts of Guatemala and the U.S. They meet weekly on Sunday afternoons at 2 pm at Moose Jaw Church of God's South Hill Campus.